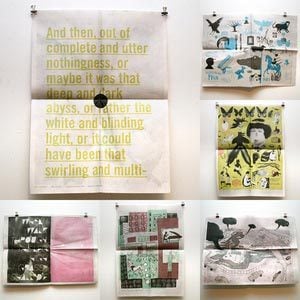 $

10.00
***ALL ORDERS MADE AFTER NOVEMBER 23rd WILL NOT BE SHIPPED UNTIL DECEMBER 8th**
Thank you for all of your support and interest!
=======================================
Promotional newsprint poster zine by the illustrators and designers in The Pencil Factory, Greenpoint, Brooklyn. Includes Kim Bost, Josh Cochran, Jennifer Daniel, Gilbert Ford, Jessica Hische, Grady McFerrin, Ted McGrath, Alex Eben Meyer, Chris Silas Neal, Zacharia O'Hora, Leif Parsons, Rachel Salomon, Joel Speasmaker, Jillian Tamaki, and Sam Weber.
More info and all spreads available at http://www.thepencilfactory.org.
All orders include all 16 posters.